What you can expect in this article:
Why we Palermitans always talk about food
Mangiare! Mangiare! Mangiare! If you spend a day with a Palermo family, you will notice that food is the dominant topic of conversation.
While we are still dining, the next meal is already up for family debate. But why does food have such an importance in Palermo?
Since the city was founded by the Phoenicians around 800 BC, many changes of rulers have taken place. For the capitals, the ritual of eating and being with loved ones has always meant a bit of security in all these uncertain times.
If the islanders may not have had any influence on the current political situation, they could always firmly plan the common meal with the family.
This link between food and family reliability has been deeply etched in our Sicilian soul for centuries. So: we eat well and with pleasure. And what exactly - we will show you in a moment.
These influences are in the Sicilian cuisine
The island's turbulent history, with its many changes of rulers, is also a reason why Sicilian cuisine is very varied.
Thus, the Greeks brought olives, ricotta, honey and wine to the island, the Romans the ice cream and the Arabs rice, citrus fruits, novel spices, sugar, almonds and marzipan.
The preparation of fish was adopted by the Normans and vegetables such as tomatoes, eggplants and peppers came to the island with the Spanish, as well as the knowledge of how to make chocolate.
The proximity to the African continent is not only felt in Sicily's climate, it can also be seen on the menu. For example, there are many different types of couscous on the island.
The greatest influence on Palermo's food was the Arabs, who with the introduction of rice, for example, laid the foundation for the now popular rice balls called arancini. We'll come back to these rice oranges later.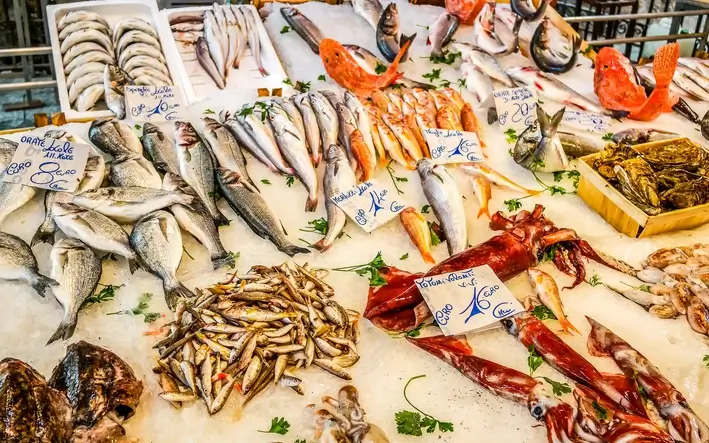 Fish market stall at a market in Palermo
Photo: © Animaflora PicsStock – stock.adobe.com
Cucina regionale: ingredients directly from the island
Pasta, fish and sweets, that's how Sicilian cuisine is often simplistically described, but that doesn't do justice to the diversity of what's on offer.
In addition to the influences of foreign cultures, Sicilian cuisine is characterized by the rich yields of its own agriculture, such as olives, lemons, peppers, artichokes, tomatoes or eggplants. Durum wheat is also grown on the island, which is used for the production of pasta.
A variety of home-produced kitchen herbs such as basil, but also almonds, pistachios or pine nuts also find their way from their own farm into the domestic cooking pots.
They are used both to refine local dishes and for the many colorful desserts and pastries. In addition, many wild plants and herbs such as fennel or capers are used as ingredients by the locals.
In Sicily, fish is also more important than meat. Tuna, swordfish, anchovies, sardines and numerous crustaceans are among the most popular varieties, which are served freshly prepared, but also preserved in olive oil, smoked or dried.
Small fish are often found on the plate as a fried garnish to other dishes. When it comes to meat dishes, lamb or pork are highly prized by the Palermitans.
Our tip:
Be sure to visit at least one of the three famous markets of the city: "Mercato Vucciria", "Mercato Ballaro" or "Mercato del Capo". Taste the intense flavor of the fresh ingredients directly at the farmers' stalls. You will literally taste the Mediterranean sun on your tongue. You can find detailed information about the markets in our article Palermo Markets .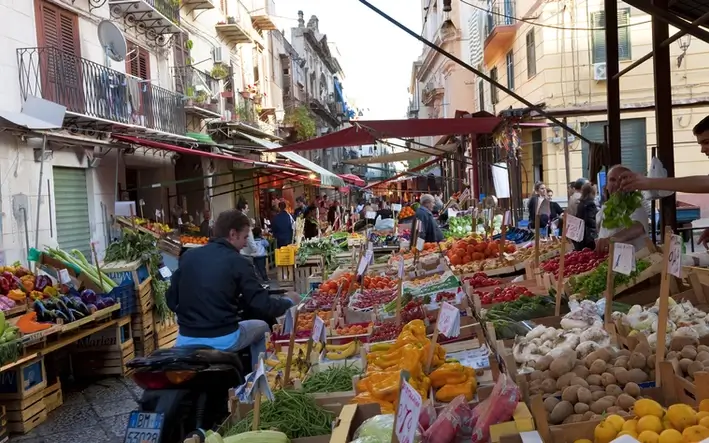 Fruit and vegetable stand at Il Capo market
Photo: © Peter Adams/Danita Delimont – stock.adobe.com
Our list of the many island treasures is coming to an end, but it would not be complete without the first-class cheeses produced specifically in Sicily. First and foremost, ricotta and pecorino siciliano. Ricotta is typically found in the filling of creamy desserts.
Pecorino in its young and soft form is often used as a substitute for mozzarella, which is otherwise popular in Italy, while the riper and spicier version of pecorino often replaces grated Parmesan. So. Enough with the head-scratching of ingredients. Let's instead take a look at what the Palermitans conjure up delicious.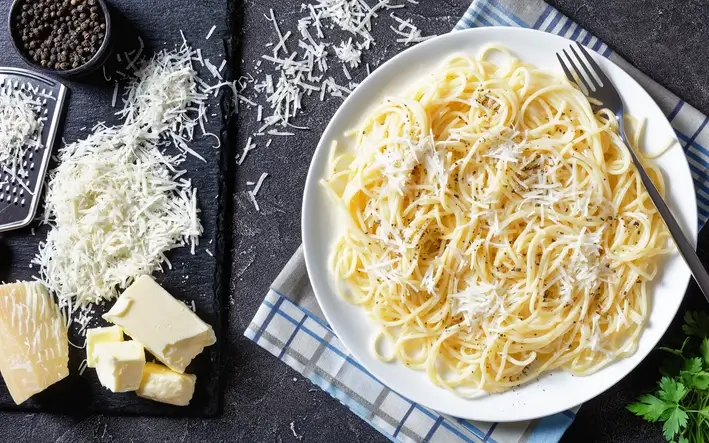 As a substitute for the Parmesan cheese in Sicily is often grated the Pecorino siciliano
Photo: © myviewpoint – stock.adobe.com
Typical Sicilian dishes
Pasta con le Sarde
Pasta con le Sarde is pasta with fried sardines, fennel, saffron and raisins. The dish originated in the 10th century under Arabic, Mediterranean and Italian influences and has continued to be popular in subsequent centuries for its unique fishy flavor.
It still represents the intersection of different cultures. In many places, the dish is garnished with toasted bread crumbs and pine nuts, giving it a toasty, al dente flavor. Our tip: Ask the waiter for bread crumbs and a slightly spicy garlic oil. Simply delicious.
Also recommended is "Sarde beccafico", another traditional sardine dish, where the sardines are stuffed with raisins, parsley, pine nuts and anchovies.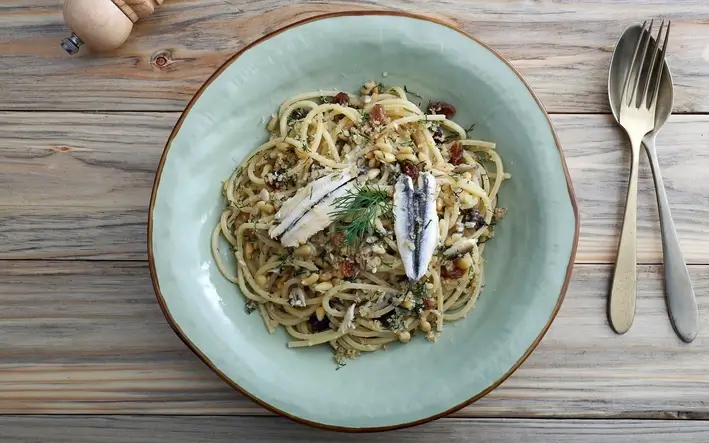 Pasta with fried sardines, fennel, saffron and raisins
Photo: © denio109 / Shutterstock.com
Cous Cous di Pesce
An oriental food traditionally prepared in the Trapani area is Cous Cous di Pesce or Trapani style couscous. With this dish, the proximity to North Africa and Morocco can be felt on the tongue.
The couscous is prepared in a "couscoussiera", a terracotta-colored pot with a floral pattern, and then seasoned with a delicious fish broth. While in the North African areas the couscous is combined with meat and vegetables, the Sicilian version adds fresh fish from the Mediterranean.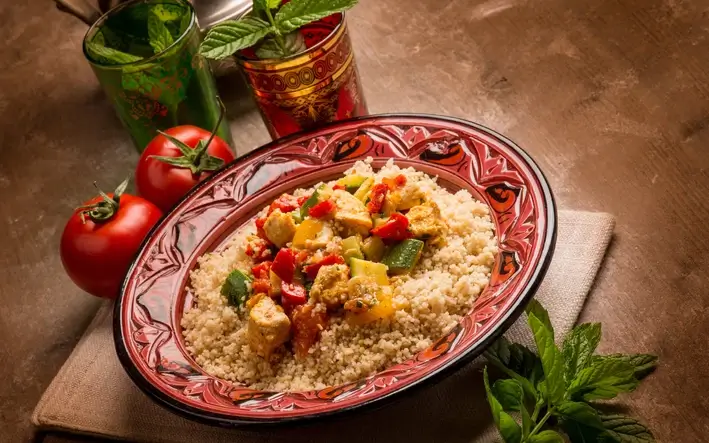 Plate with cous cous di pesce
Photo: © marco mayer / Shutterstock.com
Parmigiana di Melanzane
If you read Melanzane on a menu and don't know what is behind it, just build a mnemonic bridge and think about how melancholic the mood would be if a dish with eggplant would be missing. You can derive the other part of the name if you think of the Parmesan cheese (Italian parmigiano) and you will come up with the eggplant vegetable casserole au gratin.
Ok, the comparison from just now is a bit lame, since the term "alla parmigiana" refers to the slicing of vegetables, not the cheese. But now you have a food bridge.
Delicious and elaborate in preparation, parmigiana melanzane originated in Sicilian cuisine and was invented in the early 18th century after Arab traders introduced tomatoes and eggplants to Sicily from America and Asia. It is prepared with spicy grilled eggplant slices, basil, mozzarella, tomato sauce and Parmesan cheese (ital. parmigiano). Mhh: Simply delicious.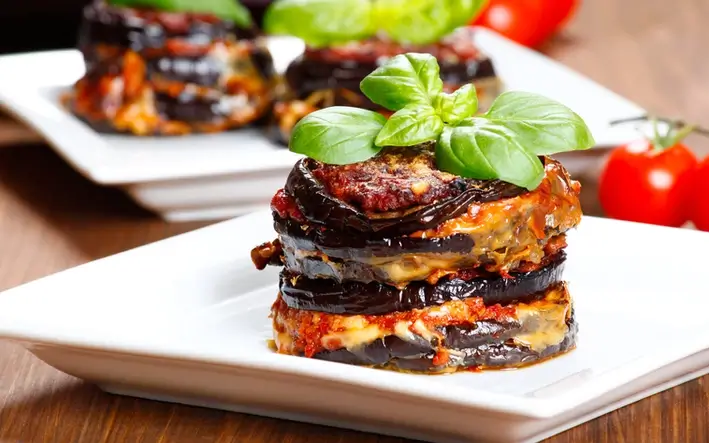 Plate with Parmigiana di Melanzane
Photo: © Tony Glamshot – stock.adobe.com
Caponata
Introduced from Asia in the 17th century and sun-ripened in the south, eggplant also stars in caponata. In the sweet and sour vegetable mix, onions and garlic are first stewed over low heat to release the mild sweetness of the onions.
With a little extra sugar, the mass is caramelized and deglazed with a dash of sour vinegar. This base is called "Agrodolce" and is used in Sicily as a base for various dishes.
In the caponata now come into play the eggplants, which are previously sprinkled with salt and placed in water for hours. They are diced and fried. For the final stew, diced, skinned tomatoes and pieces of celery are added.
Ready is the Sicilian vegetable revelation, served cold with bread as an appetizer or as a warm side dish with fish and pasta.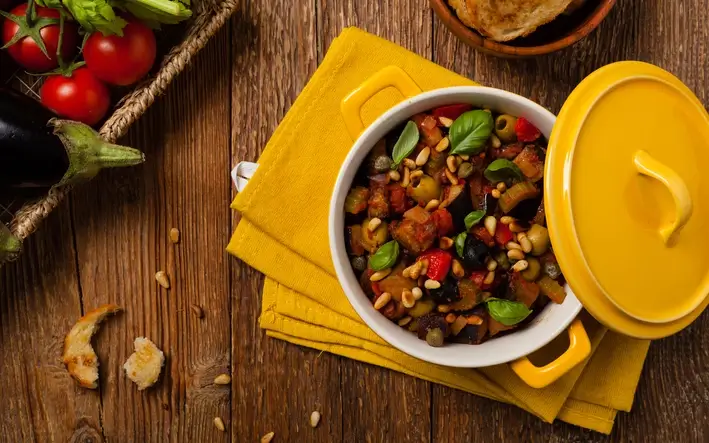 Pot with caponata
Photo: © gkrphoto – stock.adobe.com
Anelletti al forno alla siciliana
Anelletti al forno alla sicilia is a casserole topped with mozzarella cheese made with ring-shaped pasta, eggplant, ground meat sauce and peas.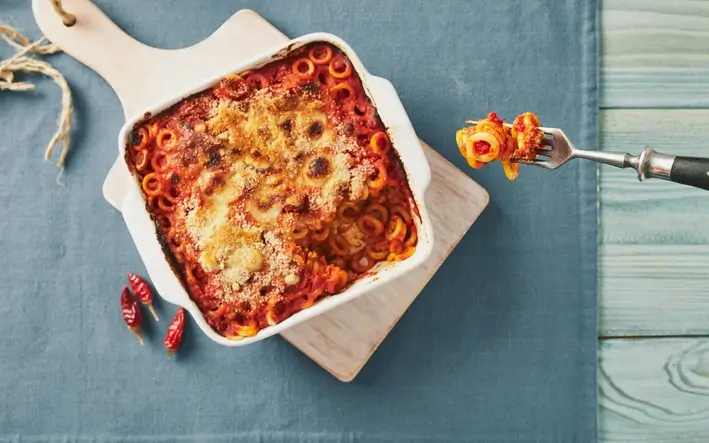 Casserole with Anelletti al forno alla siciliana
Photo: © Antonino D'Anna – stock.adobe.com
Our Top Palermo Restaurant Tips
Where can you eat well in Palermo? Which are the best restaurants? Which pizzeria is recommended? Here are our insider tips:
La Premiata Enoteca Butticè: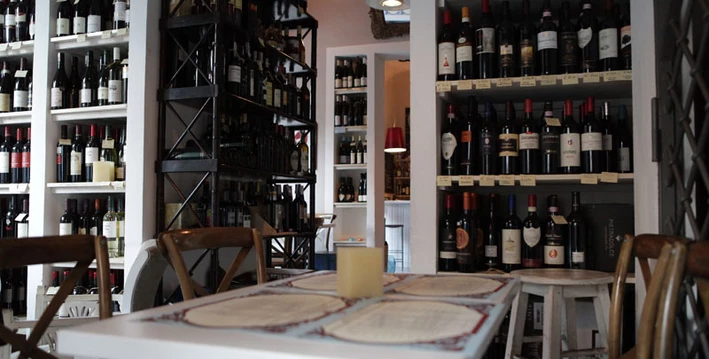 First opened in 1936 and reopened in 2011 in Piazza San Francesco di Paola, the Enoteca offers 700 different wines from more than 40 countries and among them the best wines of Sicily, in one of the best places in Palermo. Inside, sit among wine racks and enjoy Palermo and regional cuisine with ingredients fresh daily. Our highlight: the tuna steak.
Show location
La Cambusa: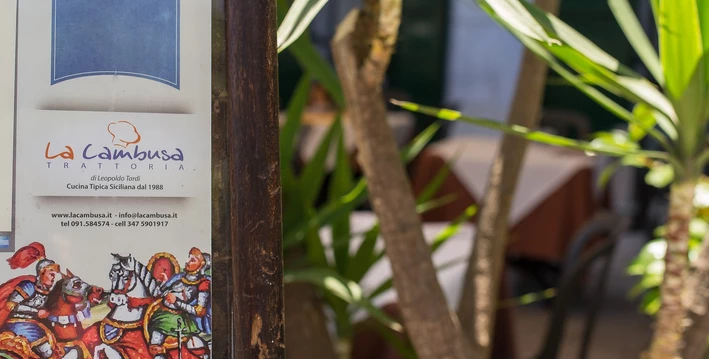 La Cambusa really deserves the distinction "Made in Sicily". In 1988, Nonna Oriana realized her dream of having her own trattoria in the beautiful Piazza Marina. After more than 30 years, traditional Sicilian dishes are still offered there in a family atmosphere, such as pasta with sardines or eggplant caponata.
Show location
Palermo Street Food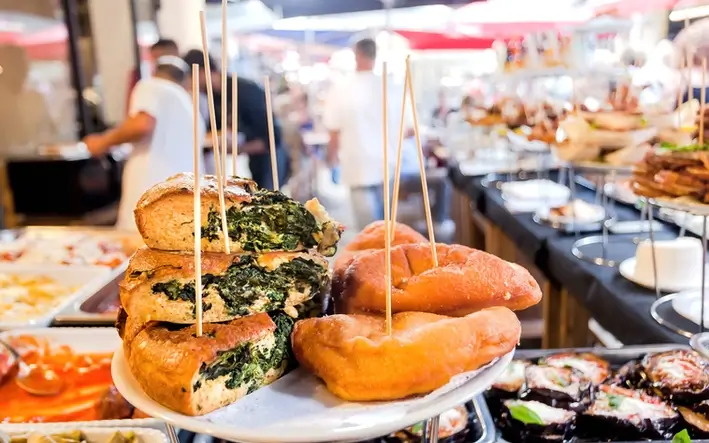 Street food stand in Palermo
Photo: © radiokafka – stock.adobe.com
Up to this point, the dishes we have shown you still had similarities to the typical Italian dishes you know. This will now change. Palermo is also and especially known for street food. Forbes lists the city in 5th place among the world capitals of street food. It is the only Italian city in the top 10.
In the alleys of Palermo, at markets or simply on the roadsides, numerous mobile stalls on wheels tempt with various street food dishes. These mobile snack bars, with a range of products that can be sampled quickly and on the go, have been around for centuries and are an inseparable part of the cityscape.
Meanwhile, many of the traditional street dishes have found their way onto restaurant menus. Typical of Palermo is the aroma of the fast food restaurants that permeates the alleys of the city and paves the way to the delicacies. The diversity of Palermo's street food can only be described in a single article to a limited extent. We show you below the most famous street food specialties of Palermo.
Arancini
Arancini - Sicilian rice balls - are probably the most popular street food to stave off hunger in between meals. How the golden brown and crispy balls with soft filling got their name is obvious. "Arancini" in German means something like "little oranges" and indeed the "little oranges made of rice" remind of the citrus fruits due to their color and shape.
Arancini are of Arabic origin and are firmly part of traditional Sicilian cuisine. They are saffron rice balls breaded with flour, deep fried in oil and filled with various ingredients. The most classic filling "Arrancini siciliani" consists of some cheese and a Sicilian ragú, made of minced veal, olive oil, onions carrots and peas, embedded in a fruity tomato sauce.
Another popular filling is "Arrancini bianchi", a "ham-pea-cheese" filling, which can also contain a béchamel sauce instead of cheese. Newer variants, such as the meatless "mozaralla spinach" filling, have now also found their way into street vendors' offerings.
But they all have three ingredients in common: Rice, filling and breading. In Palermo, arancini are eaten at any time of day and are an absolute must for every Palermo vacationer.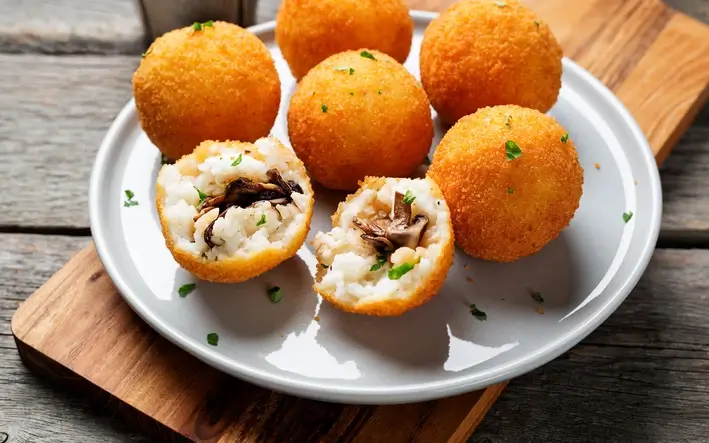 Sicilian rice balls Arrancini on a plate
Photo: © Nelea Reazanteva – stock.adobe.com
Panelle
Panelle are small patties baked in hot canola oil and made from a dough consisting of chickpea flour, water and spices such as parsley. The slices, similar to cutlets, are prepared on the street by the so-called panellari and served in a white flour bun, but you can also get them in restaurants on a plate without a bun.
This street food classic was invented in Palermo between the 9th and 11th centuries by the North African Moors, when they experimented with the basic ingredients available in the Mediterranean. With the panelle they found a simple and well filling dish for the general poorer population. Later, panelle became a favorite dish of the noble aristocratic class.
Today they are hipper than ever because they are vegan and gluten-free and thus fit perfectly into the urban zeitgeist of young people. The choice is yours: try the panelle plain or season them with a little salt and pepper or enjoy them with some fresh lemon juice. Just the way you like it.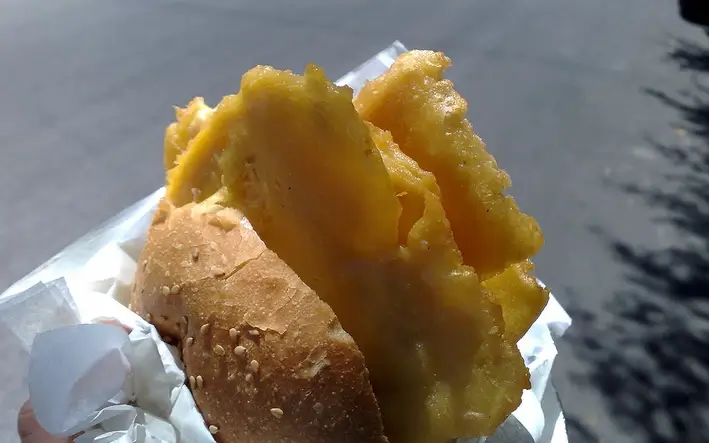 Pani câ meusa
Even for real meat lovers, eating one of the most famous street food delicacies, pani ca meusa, takes a little effort. But, those who dare will not be disappointed. The pana ca meusa is chopped veal lung and spleen in a soft white flour bun.
It was invented by the Parlermitan Jews in the Middle Ages. They worked as butchers for the better society and were not allowed to eat their offal themselves for religious reasons.
The spleen roll is prepared in the streets of Palermo by the so-called meusari and served with salt and lemon or with cheese.The spleen is cut into thin slices, boiled and then fried in clarified butter. This simple variant is called "schettu", single. Those who order the married one, "maritatu", get the spleen roll with cheese.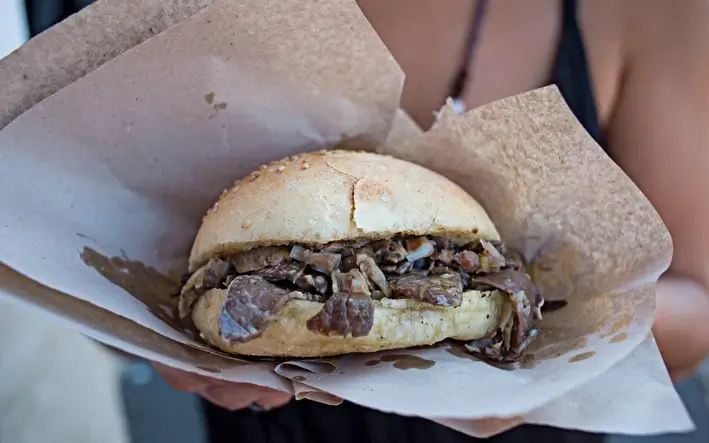 The spleen roll pani ca meusa
Photo: © Álvaro Germán Vilela – stock.adobe.com
Stigghiola
With the Stigghiola the street grillers offer another specialty, which is aimed at true meat lovers. These are roasted intestine skewers of lamb or goat.
The giblets are washed in salted water, wrapped around a spring onion and parsley, grilled and seasoned with salt and lemon. The stigghiola are prepared by the stigghiolari in the streets of Palermo.
If you want to know if a grill has stigghiola on offer, you just have to look out for a stronger smoke emission, which occurs because the fat coming out of the skewers evaporates more on the grill.
An experience worth seeing is when the Stigghiolaro spread pork fat on the grill to signal with the white smoke that the grilling can start - True to the motto "Habemus Stigghiola".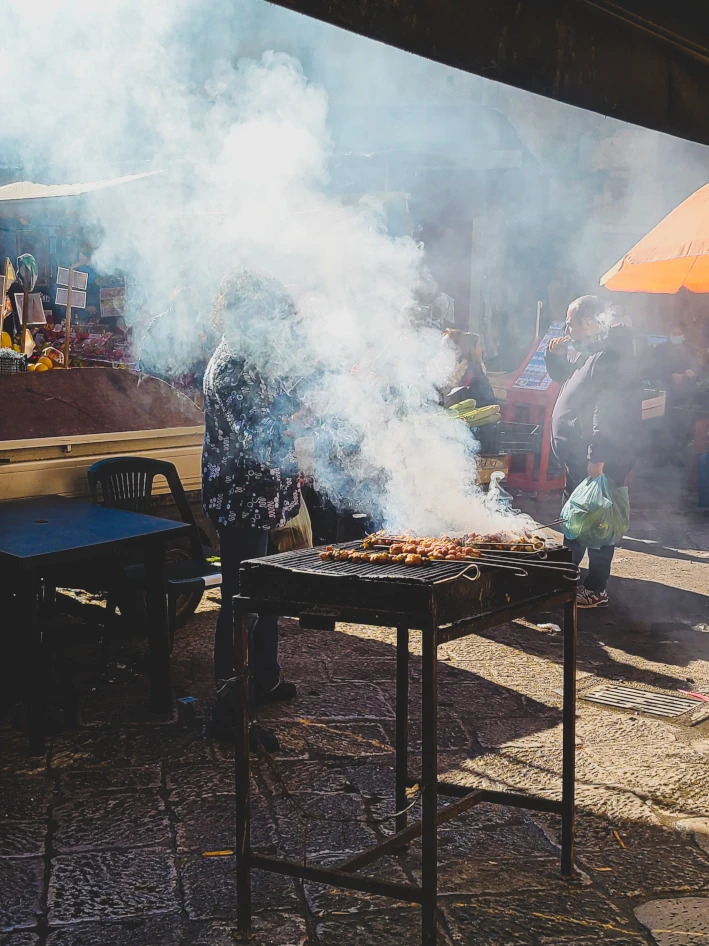 Gut skewers stigghiola on a grill
Photo: © Sonali Deo on Unsplash
Frittola
Frittola are prepared by the Frittolani. They are calf offal cooked at high temperature together with the bones, cartilage and pieces of meat of the calf and then squeezed. Then the giblets are deep fried in clarified butter and served on paper, with a little salt and pepper. As is so often the case with street food specialties, the Palermitans add a lemon.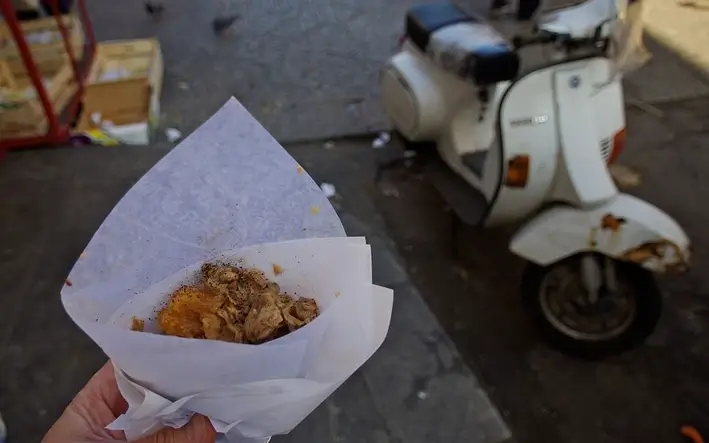 Polpo bollito
For many it is considered a delicate highlight of the Palermo street food scene: the boiled octopus. After cooking, it is cut into small pieces and served with a squeeze of lemon and parsley.
The dish is a typical traditional street food, but is now found on just about every menu in Palermo's restaurants. While in the street food markets it is served plain, in the restaurants it can be tasted in different variations and dishes.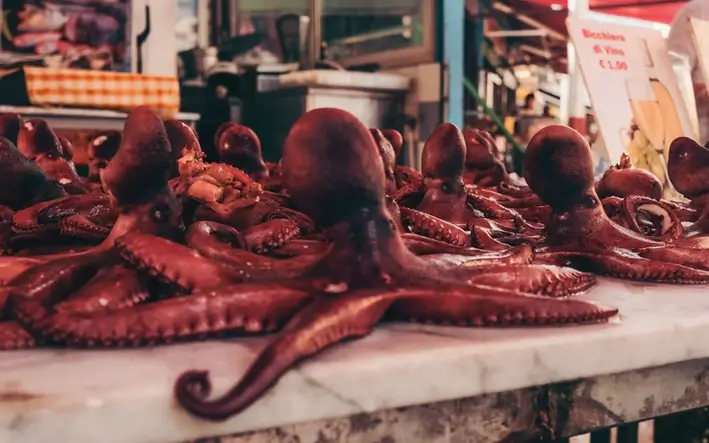 In the markets of the city polpo is freshly prepared Photo by Cristina Gottardi on Unsplash
Frittura al cartoccio
If you're into seafood, you'll never be disappointed in Palermo, and if you can't or won't decide on a variety, just order a cartoccio. This is a bag of deep-fried seafood made from calamari, shrimp and small squid, served with - you guessed it - a slice of lemon.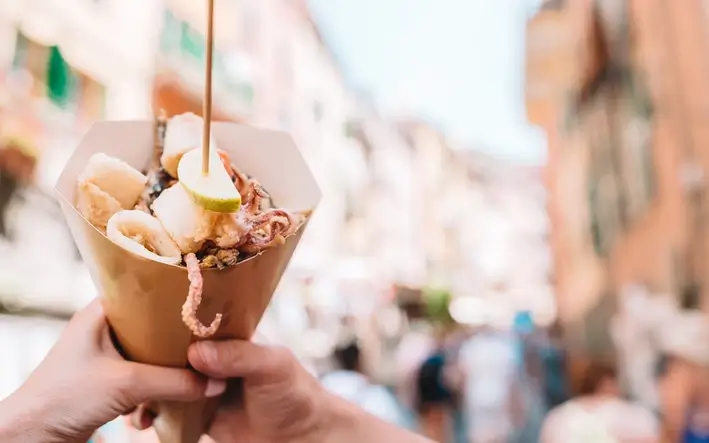 A bag of fried seafood is called frittura al cartoccio Photo: © travnikovstudio – stock.adobe.com
Crocché di patate (cazzilli)
Crocchè di Patate are basically Sicilian potato croquettes known in Palermo as "cazzilli". The croquettes are prepared by mashing cooked potatoes into puree and mixing with chopped parsley. In many places, chopped mint and pieces of garlic are added to the basic mixture, which is then rounded off with salt and pepper.
From the basic mass, pieces are formed with the hands into the typical elongated croquette shape and fried in hot oil. The croquettes are offered at the stands as a side dish, but also similar to the falaffel, served in a roll. In combination with the rich fish offer, Croccé di patate are the Sicilian equivalent of the British fish n chips offer.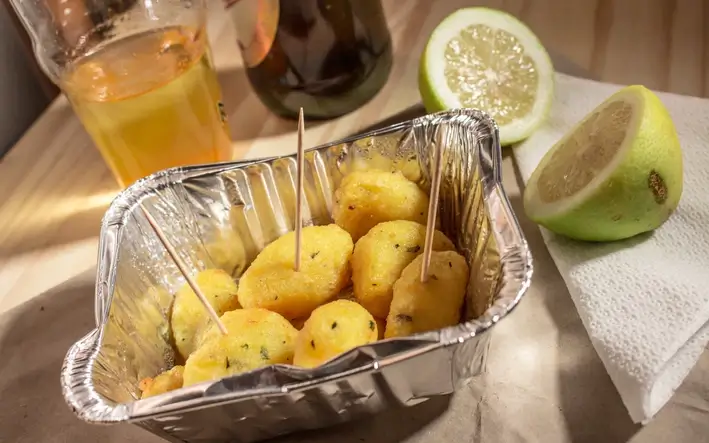 Bowl with Sicilian potato croquettes Cazzilli Photo: © Angela M. Benivegna / Shutterstock.com
Sfincione
Sfincione are small and rather simple pizza tongue twisters made of fluffy soft yeast dough. They are often eaten as breakfast by Palermitans after the first espresso, but are suitable at any time of the day and belong to street food. Traditionally, the small pieces of pizza are topped with tomato sauce, onions and anchovies, cheese and oegano.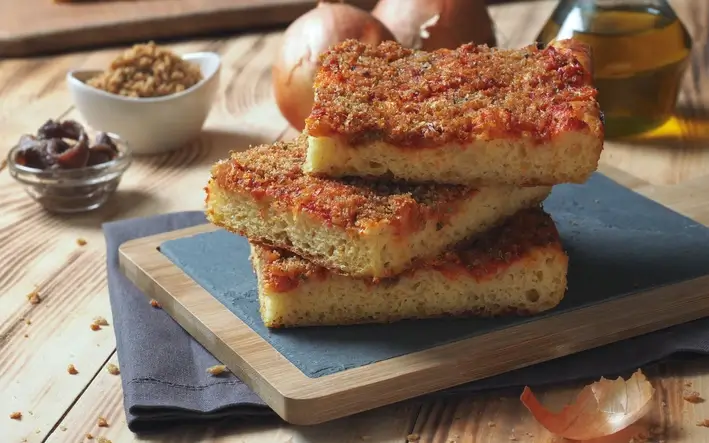 Stacked pieces of pizza on a wooden board Photo: © Claudio Rampinini / Shutterstock.com
Our top Street Food Market Palermo tips
You want to know where are the best street food addresses in Palermo? We will tell you. Nevertheless, we recommend you not to choose one location, but to take a Street Food Market Tour. Each market has its own specialties and peculiarities to offer and it is worth discovering them in the different markets and stalls: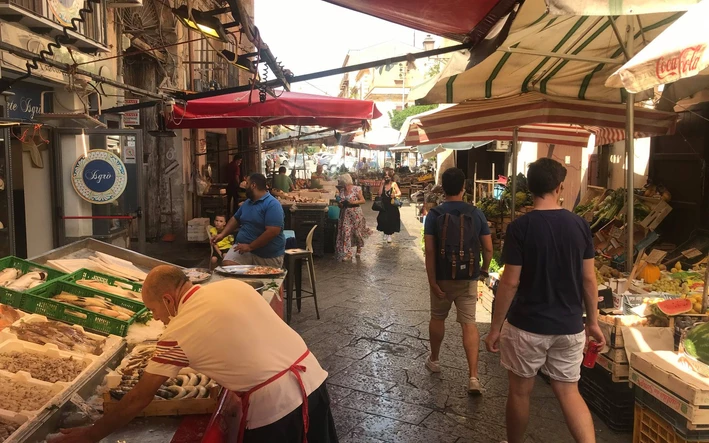 Image of pedestrians strolling through Mercato del Capo Photo: © Robin Marx – BnB Dolcevita
We have written an article about the markets in Palermo with detailed info. Click here for the article These 3 historic markets in Palermo inspire with Arabian flair
Sicilian sweets and desserts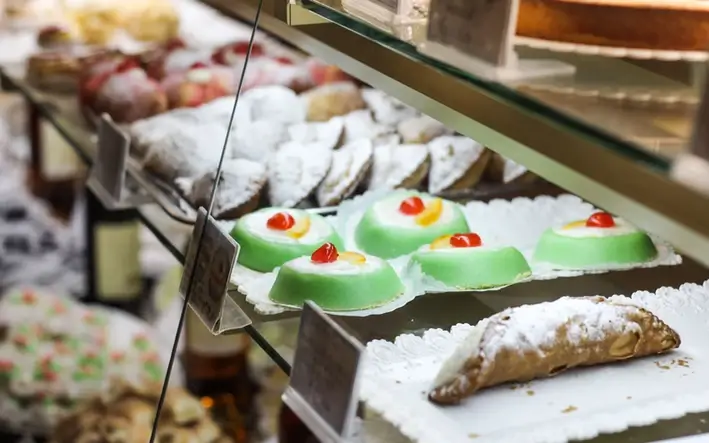 Display with Sicilian desserts Photo by Valentina Locatelli on Unsplash
The big appetite is satisfied? Good, then let's move on to dessert. For centuries, elaborately made and lavishly decorated sweets and desserts have played a major role in Sicilian food culture. In the past, these were made and sold mainly in the monasteries and primarily for clergy and nobles.
Nowadays they are offered in large quantities especially for church holidays as well as family celebrations. But you don't have to wait for a church holiday or marry into a Palermo family to enjoy the colorful sweet taste buds.
Palermo's pastry shops pile up huge mountains of almond, pistachio and pine pastries, ricotta-filled pastry rolls and marzipan fruits, called frutti della martorana, for daily consumption. Below we present the most popular desserts that you should try in Palermo - provided that your scale agrees:
Cannolo con Ricotta
They adorn the windows of every café in Palermo: Cannolo con Ricotta. This is a pastry rolled around a "cannolo" (tube) and deep-fried with a creamy ricotta filling. The filling is made of different ingredients. You can typically get cannolo with vanilla, cocoa, chocolate chips or even candied fruit.
We cannot answer the question of where to find the best cannoli. Here every Palermitan has his very own answer ready. Just try your way through the colorful and sweet delicacies of the city. You can't go wrong.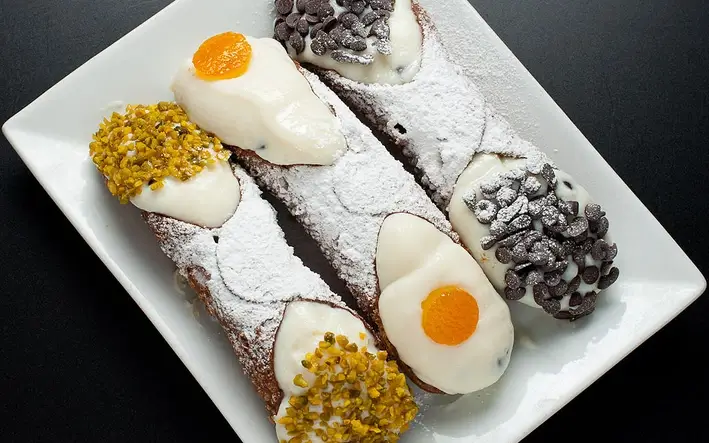 Brioche con gelato
If you're walking through Palermo and you notice people eating ice cream straight from a fluffy milk roll, it's not because they've run out of cups, the "brioche con gelato" is part of the tradition and often replaces lunch. In the morning for breakfast, the milk roll is also very popular, but is then served separately with a granita.
Our tip:
Ice cream in Sicily is incomparably good. No wonder: ice cream was invented in Palermo. There are many good flavors and tastes are different. At this point, however, we recommend that you definitely try a pistachio ice cream with pistachios from Raffadali (Pistacchio di Raffadali). The high content of local pistachios in the ice cream gives it its world famous intense flavor.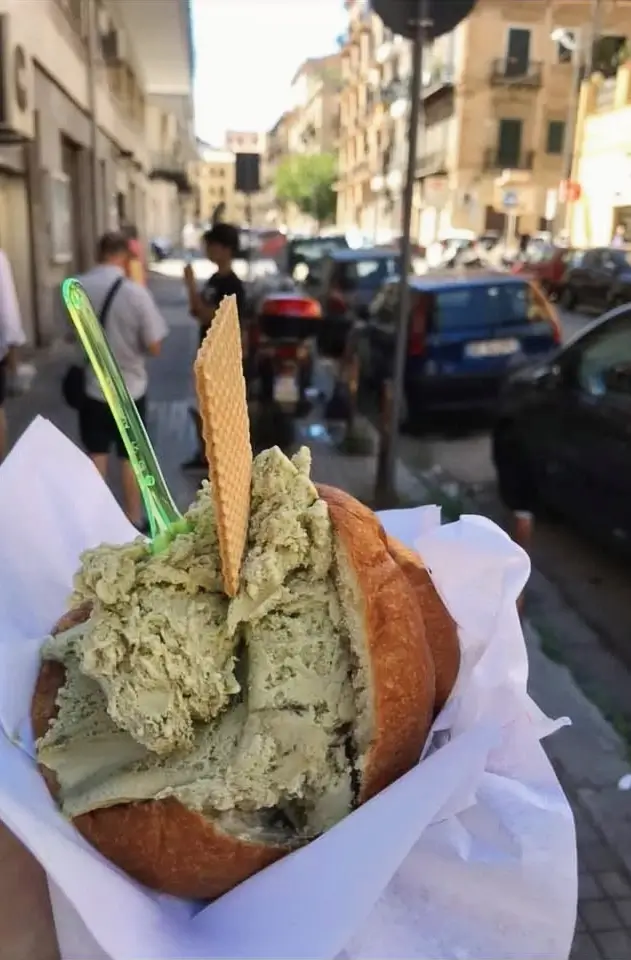 This is what a milk roll filled with pistachio ice cream looks like in Palermo Photo: © Robin Marx – BnB Dolcevita
Cassata Siciliana
Beware, now there is a danger of addiction for those with a sweet tooth. Cassata Siciliana is a Sicilian layer cake in the baroque style, originally made only in monasteries and manor houses and served only at Easter or weddings. In Palermo, however, you can snack on the delicious dessert all year round.
In the cassata, a ricotta sugar cream is alternately layered with a sponge cake and covered with a sugar or chocolate cream icing. Candied fruit, marzipan or a colored sugar glaze serve as its decoration. Depending on the recipe and the place of preparation, the cassata is enhanced by other ingredients such as pistachios, dark chocolate, cinnamon or orange liqueur.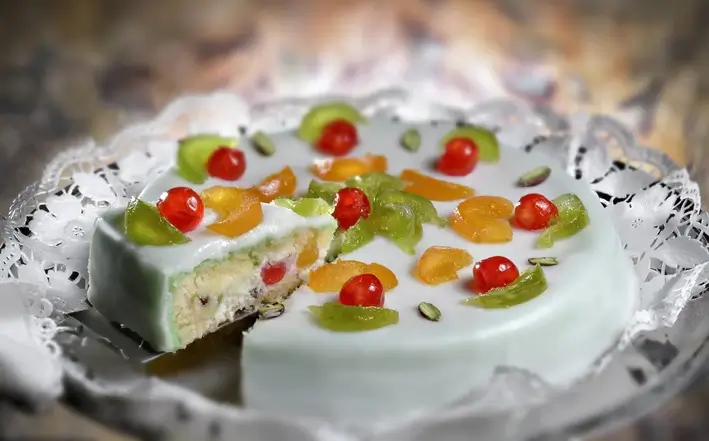 The Cassata Siciliana, a Sicilian layer cake in baroque style Photo: © fotogiunta / Shutterstock.com
Typical drinks in Palermo
Caffè
Like pizza and pasta, caffè is an inseparable part of the Italian way of life. In the 16th century, the drink was brought to Europe from its place of origin, the Kingdom of Kaffa, via Oriental traders. The Catholic Church initially rejected the hot drink on the grounds that it had been invented by the devil. Nevertheless, it subsequently caught on with the Italians and found its way to Palermo.
When you order a Caffè in Palermo, you automatically get an espresso from the portafilter machine. Dark, thick and intensely strong in flavor - that's how the Palermitans love their black gold. That is why the initially green beans are roasted particularly dark.
Roasting increases the amount of bitterness and decreases the amount of acidity and caffeine, making the coffee not only stronger tasting but also more tolerable than filter coffee.
Typically, islanders take their morning espresso standing up and right at the counter of a cafe - crowded with other frahling lovers. After their morning refreshment, and without lingering long, they escape into the hustle and bustle of the city to jump into life.
Our tip:
In one of the oldest roasting houses in the city, the "Torrefazione Ideal Caffè Stagnitta", wonderful coffee blends have been created for several generations. Here you can buy great souvenirs to take home and try classic varieties as well as more unusual ones like "Kopi Luwak".
Our tip 2:
You will look in vain for filter coffee in Palermo. However, if you prefer a large, classic coffee, simply order a "caffee americano" and you will receive an espresso diluted with water.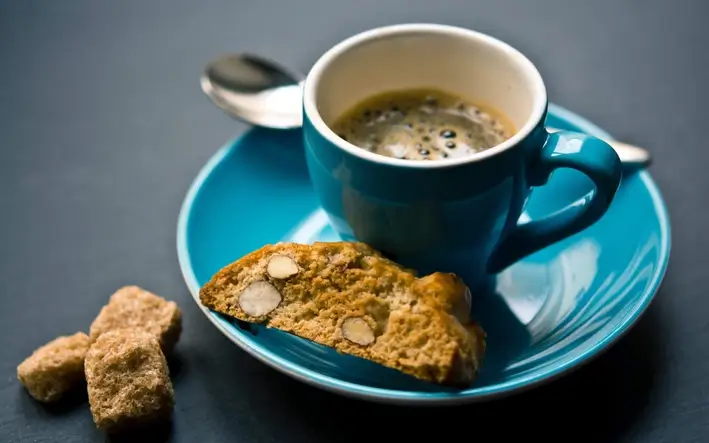 Espresso served here with cantuccini, an Italian pastry Photo by Jonathan Pielmayer on Unsplash
Wine
Due to its geographical position, wine is one of the favorite drinks in Palermo. The capital of Sicily is located in one of the most famous wine-growing areas in the world. The soil conditions and climate are ideal for growing vines, which produce the most diverse varieties.
The occasions on which wine is drunk in Palermo are also very different: The light white and rosé wines with an alcohol content of no more than 12 percent can be enjoyed during the day. They complement pasta, fish and poultry dishes in particular.
The somewhat heavier red wines are reserved for the evening hours, where they harmonize wonderfully with grilled or roasted food. But Cerasuolo di Vittoria, Nero d'Avola or Perricone are also very popular as "connoisseur's drops".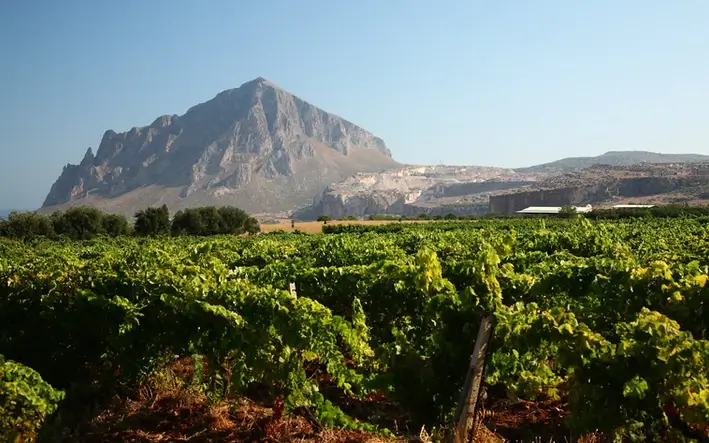 Sicilian vineyard with black and white grapes. Photo: © Alessandro Di Giugno / Shutterstock.com
Dessert wines
In addition, various dessert wines are popular in Palermo, which are also produced in Sicily and have characteristic sweetness. They include Malvasia delle Lipari and the world-famous Marsala; but also the lesser known Vino di mandorle, an almond-based wine that tastes best well chilled.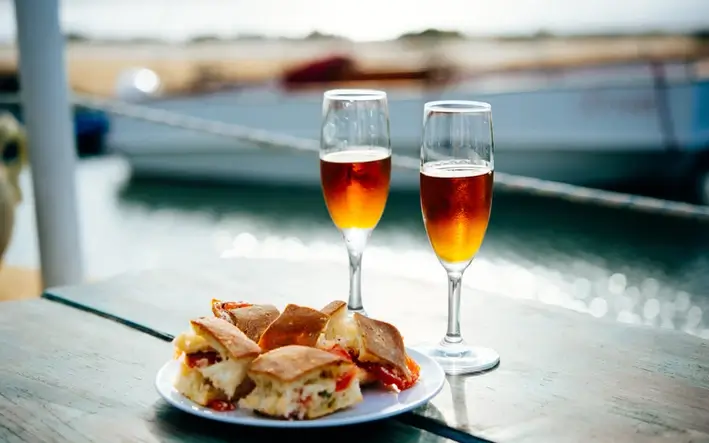 Numerous dessert wines like Marsala are popular in Palermo Photo: © Yulia Grigoryeva / Shutterstock.com
Limoncello
Another typical drink for Sicily's capital is limoncello - a fruity lemon liqueur that is served as a digestif or used as an ingredient in desserts. One of the most famous recipes in this regard is the variation of the classic tiramisù to the version "Limoncino", in which Marsala or Amaretto are replaced by Limoncello.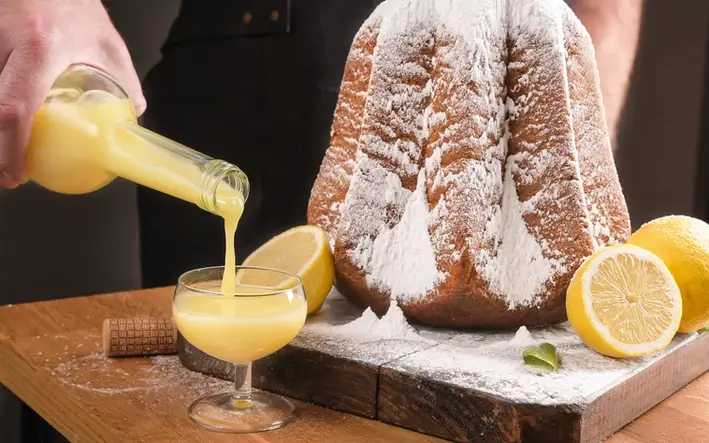 In this photo limoncello is served with a cake Photo: © Marina – stock.adobe.com
Amaro Siciliano
At the end of a sumptuous meal - but also to cheer themselves up in between - the people of Palermo like to order an Amaro Siciliano. The bittersweet herbal liqueur tastes primarily of oranges and licorice, but also allows various herbal aromas to emerge.
To intensify the individual notes, hosts serve it with slices of orange or lemon or with a stalk of mint, rosemary or sage.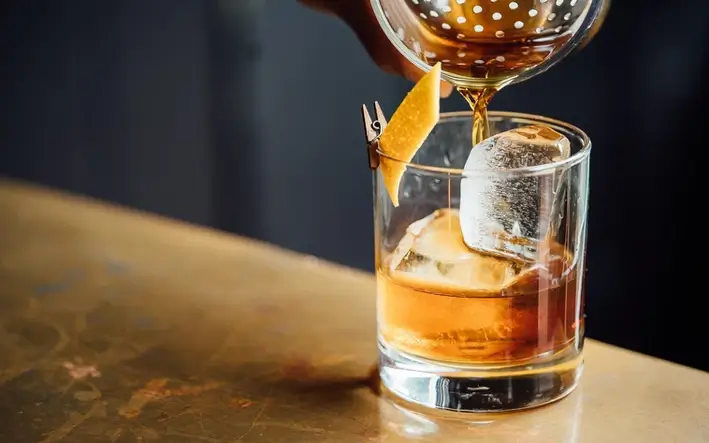 The Amaro, a popular bitter liqueur in Sicily Photo by Adam Jaime on Unsplash
At the destination of your pleasure trip
Done. Our mental eating expedition has come to a successful end. Let's take another look back and reminisce about fresh ingredients, deep-fried delicacies and sweet treats.
Mhh - was - that - good! And while we are stroking our full bellies, we are already talking animatedly again - very typically Palermo - about the next trip to San Mangiare. Then, but not online, but live and in color.
The dream accommodation
for your stay in Palermo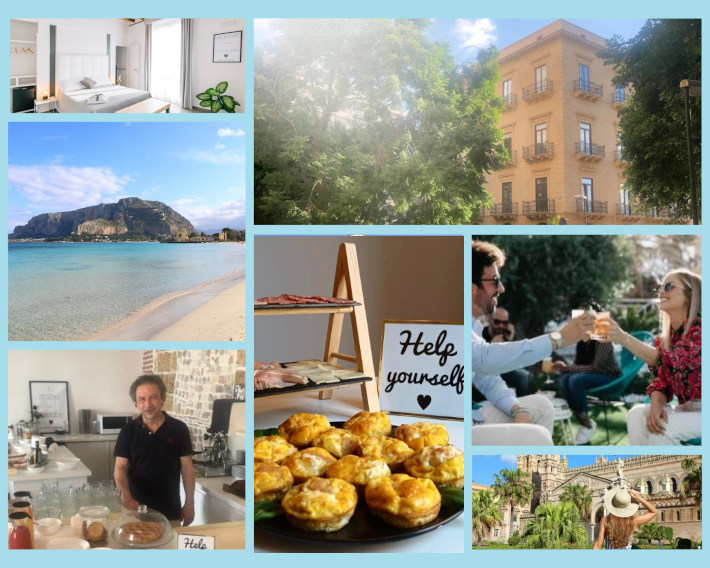 Many travellers want quality accommodation with an authentic atmosphere. At Boutique BnB Dolcevita we offer modern rooms and warm service so you can feel like a local for a while.
More info on the Boutique BnB Dolcevita