What you can expect in this article:
Palermo's home beach
The beach in Mondello stretches for about 1.5 kilometres and offers a great view of the turquoise, crystal-clear sea - ideal for long walks, far from the hustle and bustle of the city.
The intense colour spectrum of the water is reminiscent of the Caribbean and enchants tourists and city dwellers alike.
Palermitans love their "home beach", which is a lively cultural meeting place for old and young and can also be easily reached by bus from Palermo City.
It is particularly worth mentioning that the beach is very clean, well-maintained and it is also very suitable for families with children because the water is shallow for a long time.
You can walk towards the open sea for a long time without sinking. This makes it possible to take stunning photos in shallow water.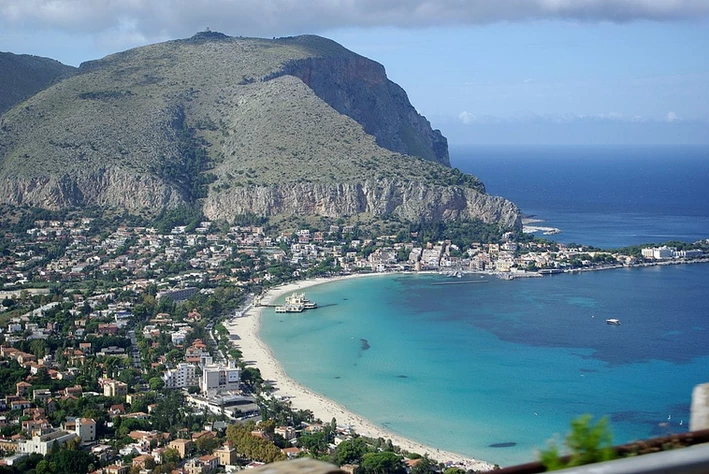 From fishing village to sophisticated seaside resort
Mondello - an attractive seaside resort with a stylish promenade and exclusive restaurants. That was not always the case.
Until the end of the 19th century, the area was still far from being a popular tourist destination. Mondello was a small fishing village that lived from tuna fishing.
It was Prince Francesco Lanza di Scalea who commissioned an Italian-Belgian company to build a lido, a hotel and around 300 villas by concession.
The villas of the Belle Epoque were mainly inhabited by rich Palermitans and still exude the flair of another era.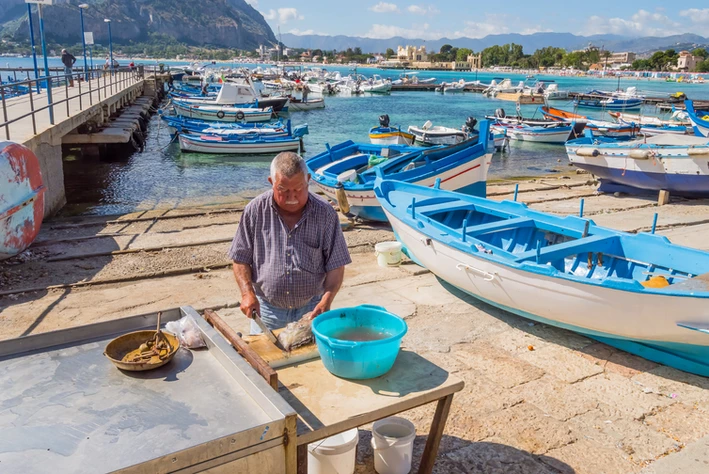 On the beach of Mondello, numerous fishermen still process their catch today
Photo: © Demande Philippe – stock.adobe.com
Distinctive art nouveau silhouette
Take the time for a walk and stroll past the impressive art nouveau buildings.
Some of the Liberty-style buildings are still well preserved, such as Villa Dagnino from 1914, Villa Pojero from 1915 and the spa house worth seeing, which was built on stilts over the sea in 1912.
The "stabilimento balneare", as "spa house" is called in the local language, houses the luxury restaurant "Charleston" with upscale Mediterranean cuisine and a sports club with a sports centre.
Since the bathhouse, built by the Belgian architect Rudolph Stualket, is decorated with numerous mythological creatures and sea monsters, it ranks high among the most popular photo motifs.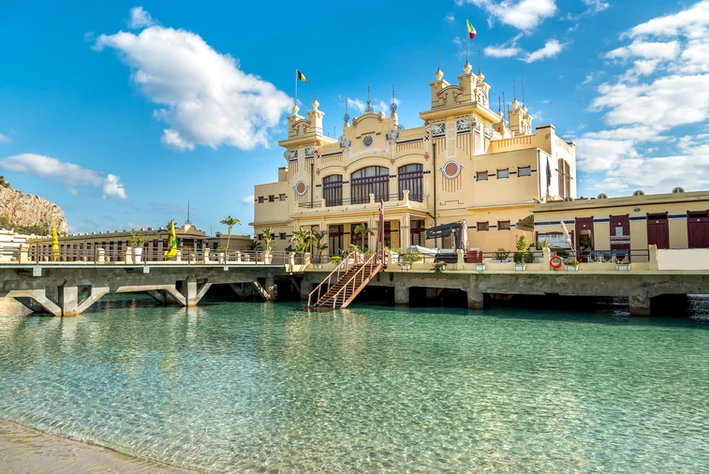 The Liberty-style spa house on Mondello beach.
Photo: © EleSi – stock.adobe.com
Bathing pleasure at the "most beautiful promontory in the world"
For a long time, wooden cabins were set up along the beach, which were rented out in the summer and in which beachgoers could store their personal belongings.
Since 2008, these have been gradually removed, and in their place, limited zones with sun loungers and parasols have been erected, which can be rented.
A welcome development, because it makes the view of the sea and the landscape that much more beautiful.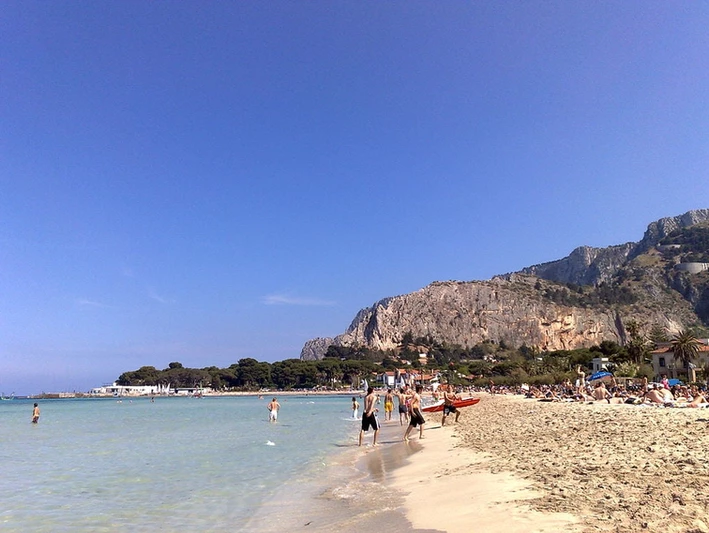 Varied activity programme
A varied activity programme is offered at the Lido of Mondello: You can go pedal boating or rent an inflatable boat, boat or surfboard to explore the picturesque bay. Participation in diving and kitesurfing courses is also possible.
In addition, the local sports clubs "Circolo della Vela" and "Circolo Canottieri Ruggero di Lauria" regularly organise sailing regattas.
Even more water sports fun is provided by the Windsurfer World Festival, which takes place once a year and attracts the best surfers in the world.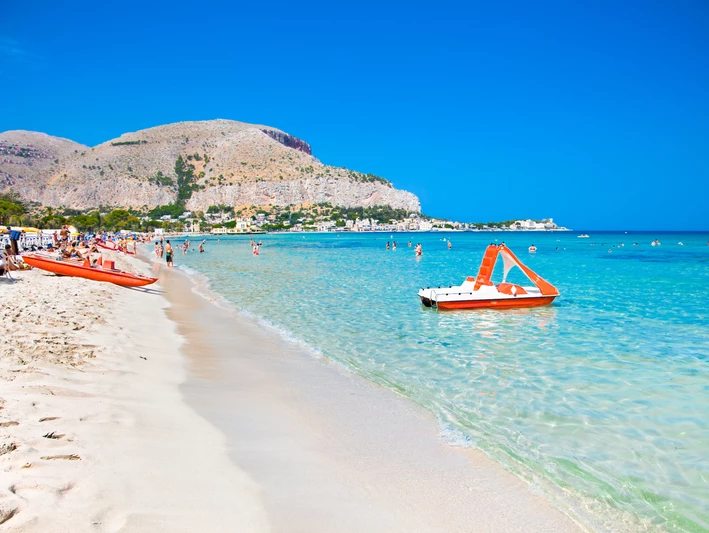 Pedal boats in the bay of Mondello.
Photo: © Aleksandar Todorovic – stock.adobe.com
The bay is embedded between two mountains
The fact that the enchanting bay of Mondello is embedded in two nature reserves makes a visit to the beach particularly appealing.
On one side of the beach is the area around Monte Pellegrino. This was declared a nature reserve "Riserva Naturale Monte Pellegrino" in 1996 in order to preserve the caves with stone-age rock images.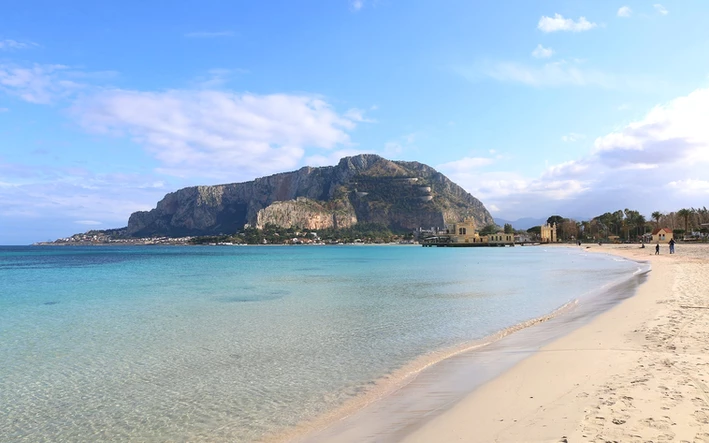 From the sandy beach of Mondello you can look at Monte Pellegrino.
Photo: © Daniele / stock.adobe.com
On the other side is Capo Gallo, where the "Riserva naturale orientata Capo Gallo" nature reserve of the same name is located.
Declared a reserve in 2001, it is home to a diverse, sometimes rare flora and fauna.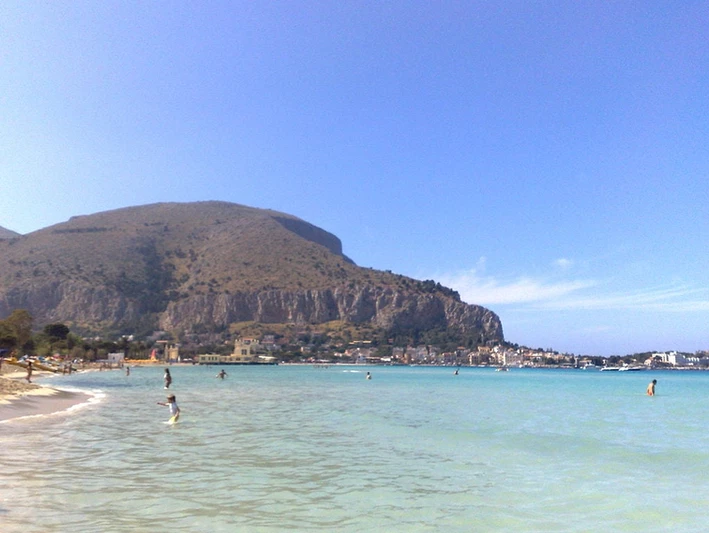 Ci vediamo?
If you are on holiday in Palermo, a trip to Mondello, one of the most beautiful beaches in Sicily, is not to be missed.
Experience this charming seaside resort, let your gaze wander over the sea and enjoy the view of nature. With a visit to Mondello, your Palermo stay will be complete.
Connection from Palermo to Lido di Mondello
The best and cheapest way to get from Palermo to Mondello without a car is to line 544 bus or line 806 bus. A ride costs 2€ and takes about 35 min, depending on where you get on. The more central line is line 806, which leaves from Via Roma, for example. There is usually a bus leaving and returning every 30 minutes. Here you can find the stops of line 806 and line 544
The dream accommodation
for your stay in Palermo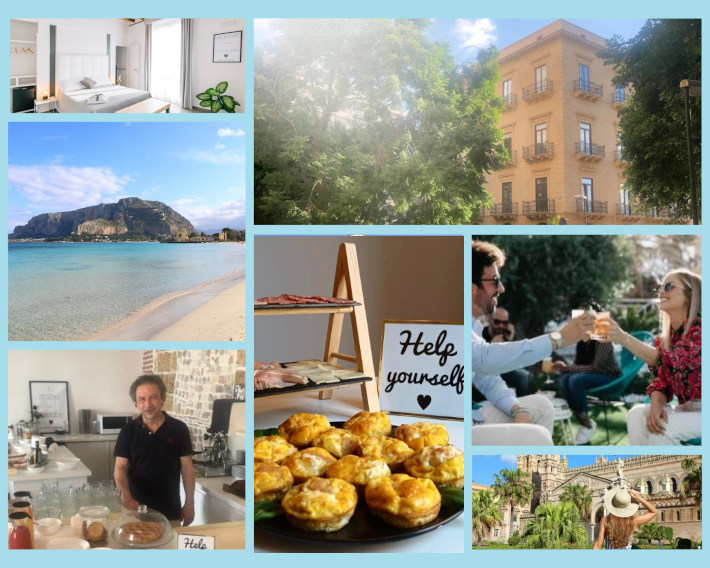 Many travellers want quality accommodation with an authentic atmosphere. At Boutique BnB Dolcevita we offer modern rooms and warm service so you can feel like a local for a while.
More info on the Boutique BnB Dolcevita